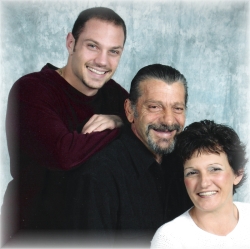 U Fill or We Fill, a locally owned and operated dumpster rental service, has proudly served the Greater Tampa Bay area including Pasco, Hernando, Hillsborough, and Pinellas counties since 2004.
By allowing us to be your dumpster rental company, we've helped by removing the clutter from your homes and garages.  We were also there when that old roof needed to be replaced and when you finally got around to that remodeling job you've been meaning to tackle.
We were there for you yesterday and we'll be there for you tomorrow.  We're still around today because our foundation is simple:  Provide prompt service while keeping our dumpster rental prices affordable – and do it all with a smile.
We thank you for your continued business and look forward to serving all your future clean up needs.
Meet the U Fill Team
Steve started U Fill or We Fill in 2004 by accident. He has always loved the construction industry. In fact, years ago he owned a company for many years. While working on many home projects (Linda likes to put him to work) he found the need for a dump trailer to haul all of the trash away.
He noticed people kept asking him if he could drop it off at their house so they can use it which gave him the idea of launching a business.
He started as Stephen Schembri's Dumpster Service which turned into U Fill or We Fill Dumpster Service as the business kept growing. Steve is proud to say that the business is as strong as ever and he looks forward to the future.
Steve's wife, Linda, helps keep the business moving with her constant support.  You'll occasionally see her ride along with Steve when picking up or dropping off a trailer. Since Steve is constantly moving with the business Linda makes sure Steve is well fed.
During her spare time she enjoys working around the yard gardening and decorating. With all of the home projects Linda finds herself doing she is a true DIY'er (do-it-yourselfer).  It is never a dull moment around the house because there is always some type of decorating or remodeling going on.
Steve's son, Joe, handles all of the marketing, website, email and technology needs for U Fill or We Fill. Every time you email us Joe is the one on the other end replying.
He tries to respond to every email within 15 min of receiving it and we believe this is one of the strengths that sets us apart from others.
Depending on your location you can literally have a dumpster delivered to you within 30 minutes of sending an email.