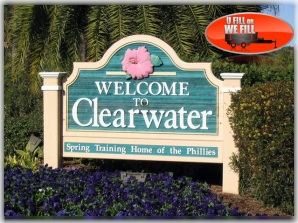 Clearwater, Florida, located in beautiful Pinellas County is included in the service areas for U Fill or We Fill Dumpster Rental Services.  In business since 2004, U Fill or We Fill proudly offers services to much of the greater Tampa area.
Renting a dumpster for clean-up projects used to be limited to contractors, but as shows such as "Clean Sweep" and "Hoarders" have highlighted the benefits of renting a commercial sized dumpster, more people are shopping for the right company.  U Fill or We Fill is different from some of the competition because the company is a local family owned and operated business near Clearwater.
Some of the items you can haul:
Yard Debris: bushes, lawn furniture, landscaping leftovers, dirt and clippings.
Rental Cleanups: furniture, trash and other items left by renters.
Yard Sale Leftovers: exercise equipment, household goods, furniture, and appliances.
Construction Debris: concrete, drywall and sheetrock, and cabinet removal.
Since each individual will have different needs when looking for a dumpster rental, the experts at U-Fill or We Fill can help determine what size dumpster rental you will need to finish the job.
The prices are some of the most competitive on the market, and there are no surprises when you pay your bill.  It is one flat price no matter how much weight or volume you put in the dumpster, so there are no worries when cleaning up your area.
Contact U Fill or We Fill for a free estimate on your specific needs.
Clearwater Zip Codes We Service:
33755, 33756, 33757, 33758, 33759
33760, 33761, 33762, 33763, 33764
33765, 33766, 33769
Looking for another city? Cities we serve near Clearwater include:
St. Pete, Largo, Oldsmar, Safety Harbor and more