U Fill or We Fill Provides Dumpster Rental Services to all Residential & Commercial Customers in Tampa, FL
U Fill or We Fill offers a variety of services to all of north Tampa, south Tampa, East Tampa, and west Tampa residents. If you need to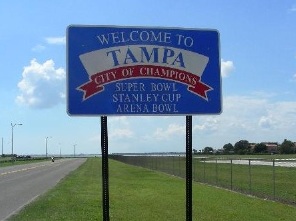 quickly remove your junk from a garage clean-out, office clean-out, yard clean-out, etc simply call us and we can most likely deliver a dumpster trailer to you the very same day. U Fill or We Fill is proud to service all Tampa residents and business owners from the zip code of 33634 and more. If you did not see your zip code, don't worry we service all of Tampa and Hillsborough County. U Fill or We Fill will haul the unwanted junk from your home or office leaving you with a clean and uncluttered space.
We gladly offer same/next day service and we are always eager to remove any and all of your unwanted items.
Let U Fill or We Fill Remove:
Furniture, Mattress, TV, Electronics, Appliances…and more
Dirt, Concrete, Asphalt, Rock, Pavers, Cement Block…and more
Brush, Green Waste, Leaves…and more
We are a family owned and operated company
We also specialize in demolishing and hauling away debris. We demo anything from landscape materials, sheds, concrete, asphalt, construction demolition, retaining walls, and more. We'll be glad to take the time to listen to your demolition needs and offer the right support and customer service. Call us at 727-505-3851 or email us for a free quote.
Let U Fill or We Fill be your #1 Dumpster Rental Experts to all residents in Tampa and Hillsborough County.
Feel free to shop around and compare our dumpster rental prices. When you're ready for a no obligation free estimate or if you would like to set up an appointment, just call us at 727-505-3851. We take pride in cleaning up and making Tampa more beautiful!
Home & Foundation Demolition and Removal
Interior/Exterior & Renovations
Swimming Pool Demolition
Hot Tub Removal
Most of the Area Codes Served in Hillsborough County:
33601, 33602, 33603, 33604, 33605, 33606, 33607, 33608, 33609, 33610, 33611, 33612, 33613, 33614, 33615, 33616, 33617, 33618, 33619, 33620, 33621, 33622, 33623, 33624, 33625, 33626, 33629, 33630, 33631, 33633, 33634, 33635, 33637, 33647, 33650, 33651, 33655, 33660, 33661, 33662, 33663, 33664, 33672, 33673, 33674, 33675, 33677, 33679, 33680, 33681, 33682, 33684, 33685, 33686, 33687, 33688, 33689, 33690, 33694, 33697