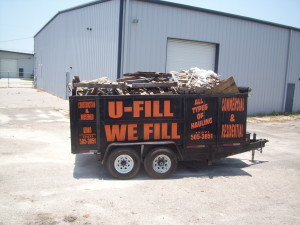 New Port Richey, FL – May 11, 2015
A local, family-owned company is turning to the community for help recovering a dumpster that was stolen two years ago.
U Fill or We Fill Dumpster Service is giving away a free barbecue grill to the person that leads to a successful recovery of the dumpster. They'll also donate $250 of food to a local food bank.
"Though we are always excited when summer rolls around, early May brings to mind the day our dumpster went missing," said Joe Schembri, one of the owners of U Fill or We Fill. "So we are offering a barbecue to anyone who can help us find our dumpster and we'll also donate to a local charity."
Between late night on May 10, 2013 and early morning May 11, 2013, the dumpster was taken from a parking lot near Ridge Road and Bass Lake Drive in New Port Richey where it was locked up for the evening.
The locks were cut off the new dumpster, which had just been purchased the week before. A police report was filed and there were many leads in the Hudson and Spring Hill areas. The Schembri family still hopes that someone may have information about the 7′ by 14′ by 4′ dumpster which weighs over 5,000 pounds.
If you have any information about the missing dumpster and want to kick off your summer with a brand new barbecue grill, contact U Fill or We Fill Dumpster Service at Joe@TampaBayDumpsterService.com.
About U Fill or We Fill Dumpster Service
U Fill or We Fill Dumpster Service is a locally owned and operated dumpster drop-off company based in New Port Richey, FL.
This family business has been serving the Tampa Bay area since it began in 2004. The Schembri family has helped thousands of customers in the area over the years with their flat rates, dependable service and excellent customer service.