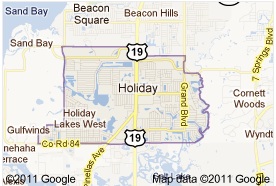 U Fill We Fill Dumpster Service has been offering junk removal and dumpster drop off services in the Tampa area since 2004, and is proud to offer services to the Holiday, FL area. Located north of Tampa and Clearwater, Holiday is located close to the coast, with a high demand for cleaning services.  Junk removal is an asset to residents who are relocating, remodeling, cleaning up after renters move, or just have a generally large clean-up project.
We often don't realize how large a clean up project is until we have begun, and the question of what to do with unwanted items can cause stress. No one wants to leave huge amounts of trash on the front lawn while a project is underway. With U Fill We Fill Dumpster Service, a dumpster is delivered to the clean up site for up the three days. Once all the items have been removed, the client simply calls and it is removed and disposed of without multiple trips to the dump. This saves a huge amount of time for the client to expedite the project.
Items removed with our services have included construction cleanup, including concrete removal, rental and foreclosure cleanup, hoarding removal, appliances, garage sale leftovers, and more.
We'll provide you with a free estimate on your dumpster rental, working with you to find the right size dumpster for your needs. Our prices are extremely competitive; click to compare dumpster rental prices.
There isn't an easier way to get rid of the unwanted items in your home, office or storage areas. Just call us, and we do the hardest part for you at a price you can afford.
We serve multiple locations, so if your zip code is not listed please contact us with any questions.
Zip Codes We Service:
34690, 34691, 34692
Looking for another city? Cities we serve near Holiday include:
NPR, Tarpon Springs, Trinity, Hudson and more